Experience the ocean's edge...
Nestled in a tranquil bay at Punta Caracol, it is bordered on one side by an ancient protected Mangrove Reserve, and the other by the Meso American Reef, with a 900 hectare Marine Park.
The Mayamar Residence presents an intimate and peaceful alternative to Mexico's principal tourist destination Cancun, yet we are only fifteen miles (25 minutes) south of the airport off highway 307 to Playa del Carmen. No jet skis or speed boats are permitted, and you are surrounded by a thriving maritime ecosystem. Frequently ocean liners can be viewed, far away on the horizon, sailing from the nearby island of Cozumel.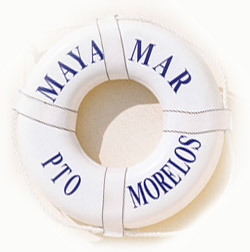 Guests are offered eight luxurious serviced suites, on four floors, each with 600 square feet of living space between the lounge, bathroom and bedroom. All are finished throughout with marble, local hardwoods and full air conditioning. Private balconies face both east, with spectacular views of the white powered sand and ocean below, and west for stunning sunsets over the tropical gardens and jungle. A refrigerator, microwave, TV, small appliances and bottled water are provided, plus laundry facilities. King, queen and twin beds are available, but most are King size and handmade from local caracolillo hardwood, with fine cotton sheets.
The beautiful aquamarine infinity edge 525 square foot pool with mosaic reef, and the rooftop terrace with bar and sun deck, are reserved exclusively for our guests. Your choice of breakfast delivered daily to your suite.
Transportation
There are regular scheduled flights to Cancun International Airport from Miami, Dallas, Houston, New York, Toronto, Montreal, Mexico City, Monterrey, Merida, with many other international arrivals from Europe and Latin America. Rental cars, taxis and shuttle buses are readily available.
More Information
For more information upon our part of the world, please visit www.rivieramaya.com, www.puertomorelos.com and www.caribemexicano.gob.mx.